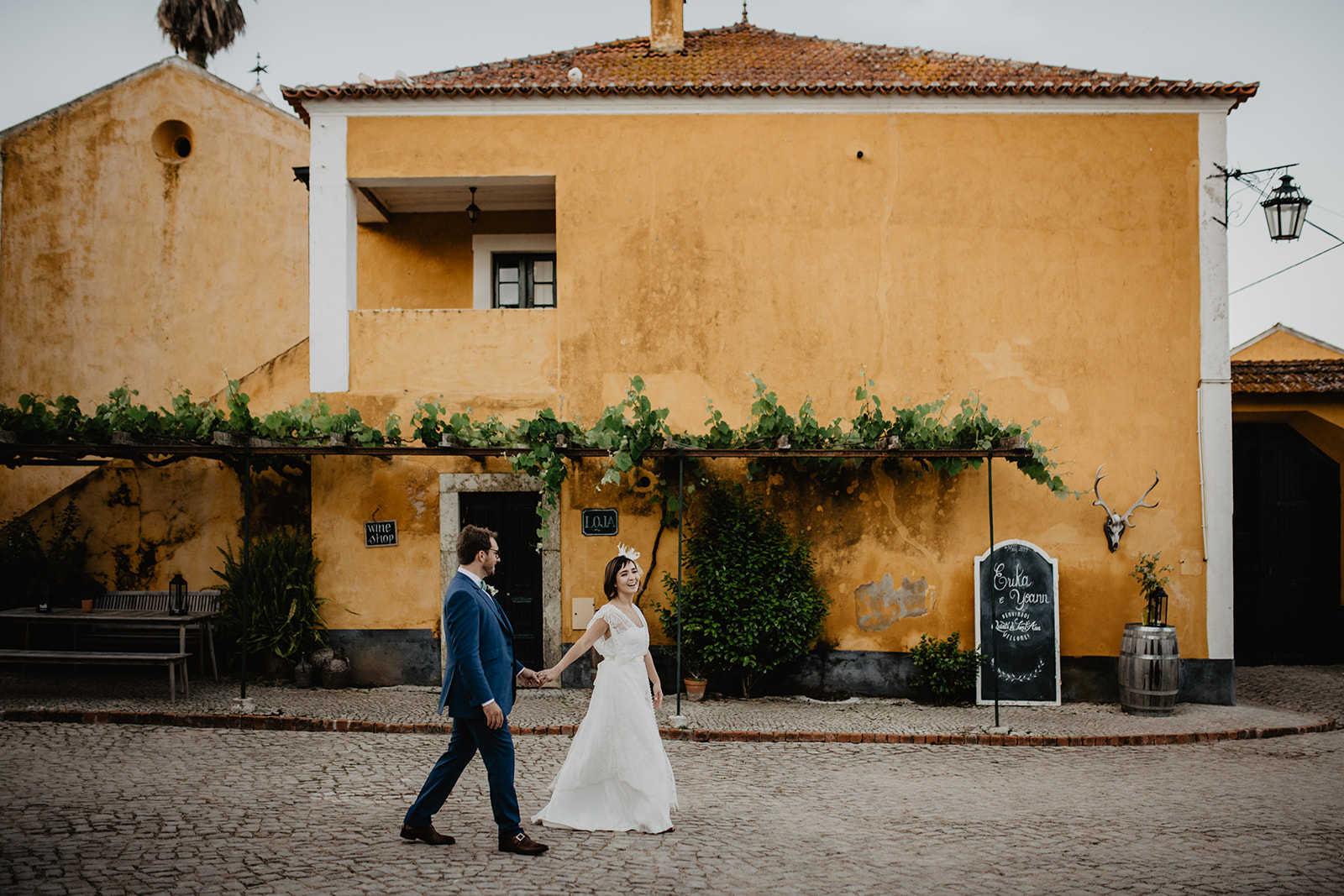 quem somos?
A Lapela nasce da amizade de dois companheiros de trabalho e andanças, o André e o Miguel. No início nunca pensámos fotografar casamentos pelo medo da sobreposição da responsabilidade ao prazer de fotografar livremente, mas tal como tudo o que vale a pena, o gosto e o gozo surgiram na inadvertência de um desafio lançado por amigos sem darmos conta. Não parámos mais, movidos a gosto e incentivados por todos, sentimos que começava algo maior, que era necessário agarrar. Hoje, permanecemos com a mesma vontade em nos insinuarmos discretamente na intimidade humana para captarmos o fogo das vossas interacções. Pretendemos que quando olhem para uma imagem construída por nós, revivam o enlevo daquele momento e que o vosso coração falhe uma batida, que o tempo pare por segundos, rompa a melancolia e mostre a beleza que reside nas relações humanas.
Um é obcecado pela simetrização, pela composição, pelo jogo de cores e luzes que compõem o código da realidade em que o elemento humano se inclui. O outro é o da emoção pura, do pormenor encontrado no caos e no imprevisto do que acontece no instantâneo do pequeno teatro humano. Editamos juntos, como se fossemos uma só retina, e no final é difícil dizer quem fotografou o quê. Na nossa complementaridade, a força.
A Lapela é uma forma de voyeurismo consentido do que vos vai lá dentro. Do que vos une. Do que vos move. É a decantação das emoções que vos consomem e roem traduzidas em fotografia.
Sejam bem-vindos.
who are we?
Lapela is born out of the friendship of two wandering and work companions, André and Miguel. At first we never thought of photographing weddings because we feared the overlapping of responsibility with the trial and error pleasure of photographing freely, but as with everything worthwhile, fondness and the enjoyment occurred inadvertently out of a challenge taunted to us by friends. We never stopped since. Moved by desire and encouraged by all, we felt that something bigger was stirring, something which was necessary for us to grasp. Today we remain with the same resolve to discreetly insinuate ourselves into human intimacy and catch the fire of your interactions. We want you to look at an image taken by us and to re-live the rapture of that moment, to let it make your heart miss a beat, to let time halt for a second, to break melancholy and let it paint the magnificence that lies in human relationships.
One is obsessed with symmetry, the composition, the play of colors and lights that make up the code of reality in which the human element is included. The other is the pure emotion, the eye of the unspoken detail found amidst chaos and the unforeseen of what happens in the instantaneous small human theater. We edit together, as if we were a single retina, and in the end it is difficult to tell who photographed what. In our complementarity, our strength.
Lapela is a form of consented voyeurism of what goes on in your innards. Of what unites you. Of what moves you. It is the decantation of your consummate and gnawing sensations translated into photography.
Welcome.
Contacto
Obrigado por terem visitado o nosso site.
Se se identificaram com os nossos trabalhos e pretendem ser desta vez os actores à frente das nossas câmeras, não hesitem com contactar-nos. Dêem-se a conhecer. Coloquem todas as vossas dúvidas. Contem-nos as vossas ideias. Tentaremos ir de encontro ao que procuram. Escolham nas opções abaixo, qual a vertente de trabalho pretendida. Prometemos ser o mais breves possível na resposta ao vosso pedido. Até já.
Thank you for visiting our website.
If you relate yourself with our work and wish to be the actors in front of our cameras, do not hesitate to contact us. Make yourself known to us. Expose your questions. Tell us your ideas. We will try to match your expectations. Choose the type of work you aspire to do from the options below, and we promise to be as brief as possible in our response to your request. See you soon.
Onde estamos | BASED IN:
FARO - ALGARVE
PORTUGAL